Sign up for daily news updates from CleanTechnica on email. Or follow us on Google News!
---
October saw plugin EVs take 26.5% share of the French auto market, an increase from 22.4% share, year on year. The volume of full electric sales grew over 1.5x YoY.  Overall auto volume was 152,383 units, up some 22% YoY, though still below pre-2020 norms. France's best selling full electric in October was the Dacia Spring.
October saw combined plugin EVs take 26.5% share, comprising 16.7% full battery electrics (BEVs), and 9.8% plugin hybrids (PHEVs). These compare with YoY figures of 22.4%, with 13.5% BEV, and 8.9% PHEV.
Year to date, the cumulative share of BEVs has reached 16.0% (PHEVs, 9.1%), compared with 12.8% (PHEVs, 8.1%) at this point last year. This is fairly modest growth in share YoY, though it comes against a background of recovering overall auto market volume (up 16.5% YTD).
If we focus on EV volume growth — it has been stronger than other powertrains — with BEVs seeing 1.48x YoY volume gains YTD, to 230,088 units. Even PHEV volume has grown 1.32x to 131,353 units, YTD.
By comparison, plugless hybrids (HEVs, including mild hybrids) have grown volume 1.29x to just over 344,000 units YTD.
Combined combustion-only powertrains (petrol, diesel, other fuels) have only seen modest recovery of 1.03x YTD, to just over 735,000 units.
Diesel-only powertrains spent their 5th consecutive month at under 10% market share:
Bestsellers
October's bestselling BEV was the Dacia Spring, with 3,291 units, returning to the top spot it last held back in July.
The runners up were the Fiat 500e (1,887 units), and the MG4 (1,864 units).
The Tesla Model Y was in its habitual start-of-quarter low volume, but remains the year to date BEV leader (and 8th overall bestselling auto in France), at 29,291 units, some 20% ahead of the Dacia Spring's total.
We currently only have clear data for the top 10 BEVs, so can't identify much in terms of newer models emerging on to the French market.
Anecdotally, however, it seems that Stellantis' new partner, Leapmotor, sold 33 units of the still-somewhat-new Leapmotor T03 in October. This diminutive BEV is priced around €26,000 (pre-incentives), and is a Renault Twingo and Dacia Spring competitor, though with better range of 280 km WLTP (vs. the Twingo's 190 km, and Spring's 230 km). We can expect many more to come, now that Stellantis is on board as a partner of Leapmotor.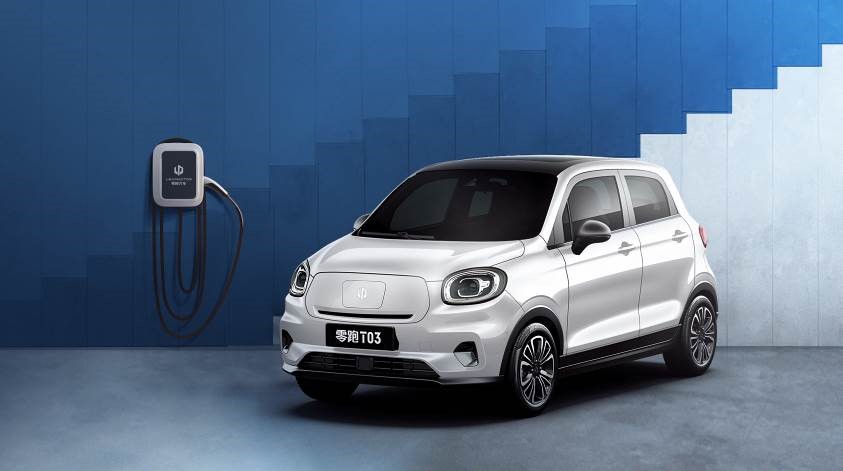 Leapmotor T03 EV. Image: Leapmotor
Meanwhile, in other snippets of news, Lotus sold 29 of its new Eletre model in October, and Fisker broke the ice with an initial single unit of the new Fisker Ocean. For those in the know, please share other anecdotes on newer models, in the comments below.
Let's take a look at the 3 month picture:
Here, the Tesla Model Y's long-term lead is more clear, although the Dacia Spring, and Peugeot e-208, refuse to be entirely left in the dust, and have decent volume of their own.
Notice that most of the top 10 — except the two Teslas — are small or compact hatchbacks and crossovers, typically preferred by the French market.
Given our rather thin data sources regarding the progress of emerging models, we can't make predictions about which new models might climb in the top 10 in the coming few months.
In the medium term, we should expect new-and-affordable releases like the Renault 5 (sometime in 2024), and Renault 4, and the recently announced Citroën e-C3 ("early 2024") to each have a good chance of approaching the top 10, perhaps even the top 5. Demand will likely be high, their success will depend more on production volume.
Outlook
The auto market's 22% YoY growth helped keep the broader French economy in positive territory, although latest Q3 data showed a slowing to 0.7% GDP growth, from 1.1% in Q2. Inflation cooled from 4.9% in September to 4.0% in October. Interest rates remained flat at 4.75%, the highest in two decades. Manufacturing PMI score fell to 42.8 points in October, from 44.2 in September.
We can expect to see the Dacia Spring experience a big push in the final two months, since, under the incoming "overall-emissions" rules for calibrating incentives (from January 2024), it will be somewhat disfavoured, as will many other imported BEVs. We will have to see how this plays out, and which models benefit from the changes.
As discussed above, the EV share this year has crept up only modestly, against a backdrop of a strong recovery in overall auto volumes compared to the past 3 years (due to a bounce-back from suppressed demand, supply chain fixes… take your pick).
This modest growth in share shouldn't, however, obscure the fact that EV volumes — and particularly BEV volumes — have been growing strongly, with BEVs up 1.48x year to date. For the EV transition, production volume growth is the limiting factor for large markets like France (and Germany, and the UK, amongst others). Small or tiny markets, like Sweden and Norway, can relatively easily be accommodated with as many BEVs as buyers want, since their volume requirement is still modest compared to European (and especially global) auto production volume. EV share can thus grow rapidly in small markets, without much constraint.
Once overall auto market growth flattens in France, as it inevitably will, the underlying and inexorable growth in BEV production and supply volumes will translate into much more impressive progress in terms of headline market share.
What are your thoughts on France's transition to EVs? Please join the discussion in the comments section below.
---
Have a tip for CleanTechnica? Want to advertise? Want to suggest a guest for our CleanTech Talk podcast? Contact us here.
---
EV Obsession Daily!
https://www.youtube.com/watch?v=videoseries
---
I don't like paywalls. You don't like paywalls. Who likes paywalls? Here at CleanTechnica, we implemented a limited paywall for a while, but it always felt wrong — and it was always tough to decide what we should put behind there. In theory, your most exclusive and best content goes behind a paywall. But then fewer people read it!! So, we've decided to completely nix paywalls here at CleanTechnica. But…
Like other media companies, we need reader support! If you support us, please chip in a bit monthly to help our team write, edit, and publish 15 cleantech stories a day!
Thank you!
---
Community Solar Benefits & Growth
---
Advertisement
---
CleanTechnica uses affiliate links. See our policy here.